Headquarters and innovation: does location matter?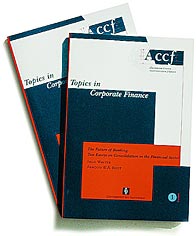 Volume: 14 Topics in Corporate Finance
Year: 2007
ISBN: 90-77859-05-6
A key public issue for many governments is how to attract (and retain) economic activities. While industrial policy, aimed at picking winners and/or subsidizing existing businesses, is out of fashion (the dreadful experiences in the seventies with protecting "old industries" like shipping and mining are still vivid…), countries and regions are nevertheless actively trying to create their own "Silicon Valley". In similar spirit, governments seem interested at being attractive as location for headquarters. Economic activity, knowledge intensive professional services in particular, seem to cluster where headquarters are. All this might be true yet little is known about the effectiveness and ability of governments to stimulate economic activity.

Against this backdrop the Amsterdam Center for Corporate Finance (ACCF) has decided to devote this issue of its discussion series "Topics in Corporate Finance" to this important topic. This booklet tries to take a small step in that direction. Professor Vives –one of the world's leading authorities on competitiveness and industrial policy (in collaboration with Professor Vanessa Strauss Kahn) – provides an insightful analysis on the choice of location for headquarters. This is analyzed extensively using data on location choices of firms in the Unites States. In a separate chapter Professor Vives also addresses where economic activity is clustered in the EU, suggestive for what the regional competitive advantages might be. The main observation in this brief chapter is that regions have specialized, yet have very different track records in attracting innovative activities.
Publications Topics in Corporate Finance
| | | | | |
| --- | --- | --- | --- | --- |
| 30 | 2023 | D. Bezemer, K. Cools, A. Boot | Ondernemingsbeleid in een wereld van financialisering | € 20.00 |
| 29 | 2021 | A.J. Menkveld, G. Vuillemey, M.P. Schinkel, T. Klein and others | Perspectives on Central Clearing and Competition Policy | € 20.00 |
| 28 | 2020 | R. de Weijs, A. Jonkers & A. Boot et al. | Perspectives on Leveraged Finance and Fintech | € 20.00 |
| 27 | 2019 | Dirk Schoenmaker, Rens van Tilburg, Elisa Achterberg and Max van Son | Sustainable Finance and Government Policy | € 20.00 |
| 26 | 2018 | Arnoud W.A. Boot, Jeroen E. Ligterink and Jens K. Martin | Understanding Fintech and Private Equity | € 20.00 |
| 25 | 2017 | Jeroen E. Ligterink en Jens K. Martin | Private equity: waardecreatie, herverdeling en excessen | € 20.00 |
| 24 | 2015 | Tanju Yorulmazer | Understanding the Crisis: Bank Funding Structures as Source of Instability | € 20.00 |
| 23 | 2014 | Anat R. Admati | Towards a Better Understanding of the Capitalization of Banks | € 20.00 |
| 22 | 2013 | Arnoud W.A. Boot | Transactiemaatschappij en financiële markten: op zoek naar een nieuwe balans | € 20.00 |
| 21 | 2012 | Lans Bovenberg | Macro-oplossingen gezocht: naar integrale oplossingen voor de onevenwichtigheden in wonen, pensioen, ouderenzorg en het bancaire landschap | € 20.00 |
| 20 | 2011 | Paul De Grauwe and Arnoud W.A. Boot | Towards a Fundamental Resolution of the Eurocrisis | € 20.00 |
| 19 | 2010 | David T. Llewellyn | The Global Banking Crisis and the Post-Crisis Banking and Regulatory Scenario | € 20.00 |
| 18 | 2010 | Ludovic Phalippou | Regulating Private Equity | € 20.00 |
| 17 | 2009 | Frank Partnoy, Arnoud W.A. Boot and Anjan V. Thakor | Towards a Fundamental Understanding of Financial Sector Developments | € 20.00 |
| 16 | 2008 | Arnoud W. A. Boot | Corporate finance theorie en financiële crisis in breder perspectief | € 20.00 |
| 15 | 2007 | Arnoud W.A. Boot, meerdere auteurs | Private equity en aandeelhoudersactivisme | € 20.00 |
| 14 | 2007 | X. Vives and V. Strauss-Kahn | Headquarters and innovation: does location matter? | € 20.00 |
| 13 | 2006 | L. Bouchez, M. Knubben, J.A. McCahery and L. Timmerman (eds) | The Quality of Corporate Law and the Role of Corporate Law | € 20.00 |
| 12 | 2005 | J. McCahery and E. Vermeulen | Understanding (Un)incorporated Business Forms | € 20.00 |
| 11 | 2005 | D. Cumming, G. Fleming and A. Schwienbacher | Recent research on the investment behavior of private equity fund managers | € 20.00 |
| 10 | 2005 | M.J.G.C. Raaijmakers, G. van Solinge en P. Frentrop | Corporate governance: een agenda voor de toekomst | € 20.00 |
| 9 | 2004 | Amar Bhidé | Entrepreneurship and Venture Capital | € 20.00 |
| 8 | 2004 | V. Maksimovic, D. Brounen, A. de Jong and K. Koedijk | Perspectives on the Theory and Practice of Corporate Finance | € 20.00 |
| 7 | 2003 | J.J.A. Leenaars | Securitisatie: Economics en Europees Perspectief | € 20.00 |
| 6 | 2003 | U. Bhattacharya | Global Corporate Governance and Accounting Transparency | € 20.00 |
| 5 | 2002 | A. Saunders and A. Schmeits | The Role of Bank Funding for the Corporate Sector: the Netherlands in an International Perspective | € 20.00 |
| 4 | 2001 | Todd T. Milbourn | Management Compensation in the Netherlands: Theory, Evidence, and Best Practice | € 12.50 |
| 3 | 2000 | A.W.A. Boot and J.E. Ligterink | De Efficiëntie van de Nederlandse Faillissements | € 15.00 |
| 2 | 2000 | E.I. Altman and A. Saunders, and A.W.A. Boot, T. Milbourn, and S. Dezelan | Perspectives on the Regulation of the Financial Services Industry | € 12.50 |
| 1 | 1999 | I. Walter and A.W.A. Boot | The Future of Banking: Two Essays on the Consolidation in the Financial Sector | € 15.00 |