Private equity: waardecreatie, herverdeling en excessen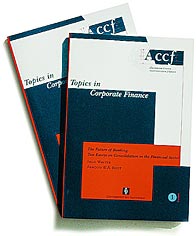 Volume: 25 Topics in Corporate Finance
Year: 2017
ISBN: 978-9077859162
With this new publication (in Dutch) Private equity: waardecreatie, herverdeling en excessen from Jeroen E. Ligterink and Jens K. Martin (both University of Amsterdam) the Amsterdam Center for Corporate Finance seeks to contribute to the current debate on private equity in society.
Private equity firms have become increasingly important in society. The pro and cons of this type of ownership and governance model dominate this debate. How should we look at private equity? Does it help companies prosper, and benefit economic growth in general?
Jeroen E. Ligterink, Associate Professor of Finance at the University of Amsterdam and Jens K. Martin (Assistant Professor of Finance the University of Amsterdam) have authored this new publication in the series Topics in Corporate Finance, focusing of corporate buy-outs (the typical manifestation of private equity apart from venture capital). This publications is a spin-off from the report Private equity: een stakeholder-perspectief, a study – conducted by researchers of the University of Amsterdam and others – on the role of private equity in the Netherlands for the Dutch Ministry of Finance and provides a nuanced overview of the current status quo of the research in this field, and the actual practices in The Netherlands.
The study observes that private equity firms have an active role in the firms in which they invest. They actively engage with management compared to other investors, often for periods longer than 5 years. Typically, private equity also operates via securing more hands-on and knowledgeable non-executive directors. The report also highlights the role that leverage plays. The authors conclude that while negative incidents exist, typically a more productive picture emerges. Nevertheless, painful reorganizations for stakeholders (including employees) are no exception, and the possibility of inherent conflicts of interest should not be ignored. What this implies is that the returns that PE investors realize not just reflect possible true value creation (better performance etc.), but also redistributions of wealth at the expense of other stakeholders (including exploiting the favorable tax treatment of debt via higher leverage).
An important caveat to this study is that lack of data is a concern, and makes that the results should be interpreted as conclusive evidence on the value creation of private equity. Firms change considerably under private equity ownership (via mergers & acquisitions and divestitures) and selection biases are not easy to control for, also due to a lack of data. There is a need for more specific data at the firm level to facilitate a more complete analysis of the overall effects of private equity on performance.
Publications Topics in Corporate Finance
| | | | | |
| --- | --- | --- | --- | --- |
| 29 | 2021 | A.J. Menkveld, G. Vuillemey, M.P. Schinkel, T. Klein and others | Perspectives on Central Clearing and Competition Policy | € 20.00 |
| 28 | 2020 | R. de Weijs, A. Jonkers & A. Boot et al. | Perspectives on Leveraged Finance and Fintech | € 20.00 |
| 27 | 2019 | Dirk Schoenmaker, Rens van Tilburg, Elisa Achterberg and Max van Son | Sustainable Finance and Government Policy | € 20.00 |
| 26 | 2018 | Arnoud W.A. Boot, Jeroen E. Ligterink and Jens K. Martin | Understanding Fintech and Private Equity | € 20.00 |
| 25 | 2017 | Jeroen E. Ligterink en Jens K. Martin | Private equity: waardecreatie, herverdeling en excessen | € 20.00 |
| 24 | 2015 | Tanju Yorulmazer | Understanding the Crisis: Bank Funding Structures as Source of Instability | € 20.00 |
| 23 | 2014 | Anat R. Admati | Towards a Better Understanding of the Capitalization of Banks | € 20.00 |
| 22 | 2013 | Arnoud W.A. Boot | Transactiemaatschappij en financiële markten: op zoek naar een nieuwe balans | € 20.00 |
| 21 | 2012 | Lans Bovenberg | Macro-oplossingen gezocht: naar integrale oplossingen voor de onevenwichtigheden in wonen, pensioen, ouderenzorg en het bancaire landschap | € 20.00 |
| 20 | 2011 | Paul De Grauwe and Arnoud W.A. Boot | Towards a Fundamental Resolution of the Eurocrisis | € 20.00 |
| 19 | 2010 | David T. Llewellyn | The Global Banking Crisis and the Post-Crisis Banking and Regulatory Scenario | € 20.00 |
| 18 | 2010 | Ludovic Phalippou | Regulating Private Equity | € 20.00 |
| 17 | 2009 | Frank Partnoy, Arnoud W.A. Boot and Anjan V. Thakor | Towards a Fundamental Understanding of Financial Sector Developments | € 20.00 |
| 16 | 2008 | Arnoud W. A. Boot | Corporate finance theorie en financiële crisis in breder perspectief | € 20.00 |
| 15 | 2007 | Arnoud W.A. Boot, meerdere auteurs | Private equity en aandeelhoudersactivisme | € 20.00 |
| 14 | 2007 | X. Vives and V. Strauss-Kahn | Headquarters and innovation: does location matter? | € 20.00 |
| 13 | 2006 | L. Bouchez, M. Knubben, J.A. McCahery and L. Timmerman (eds) | The Quality of Corporate Law and the Role of Corporate Law | € 20.00 |
| 12 | 2005 | J. McCahery and E. Vermeulen | Understanding (Un)incorporated Business Forms | € 20.00 |
| 11 | 2005 | D. Cumming, G. Fleming and A. Schwienbacher | Recent research on the investment behavior of private equity fund managers | € 20.00 |
| 10 | 2005 | M.J.G.C. Raaijmakers, G. van Solinge en P. Frentrop | Corporate governance: een agenda voor de toekomst | € 20.00 |
| 9 | 2004 | Amar Bhidé | Entrepreneurship and Venture Capital | € 20.00 |
| 8 | 2004 | V. Maksimovic, D. Brounen, A. de Jong and K. Koedijk | Perspectives on the Theory and Practice of Corporate Finance | € 20.00 |
| 7 | 2003 | J.J.A. Leenaars | Securitisatie: Economics en Europees Perspectief | € 20.00 |
| 6 | 2003 | U. Bhattacharya | Global Corporate Governance and Accounting Transparency | € 20.00 |
| 5 | 2002 | A. Saunders and A. Schmeits | The Role of Bank Funding for the Corporate Sector: the Netherlands in an International Perspective | € 20.00 |
| 4 | 2001 | Todd T. Milbourn | Management Compensation in the Netherlands: Theory, Evidence, and Best Practice | € 12.50 |
| 3 | 2000 | A.W.A. Boot and J.E. Ligterink | De Efficiëntie van de Nederlandse Faillissements | € 15.00 |
| 2 | 2000 | E.I. Altman and A. Saunders, and A.W.A. Boot, T. Milbourn, and S. Dezelan | Perspectives on the Regulation of the Financial Services Industry | € 12.50 |
| 1 | 1999 | I. Walter and A.W.A. Boot | The Future of Banking: Two Essays on the Consolidation in the Financial Sector | € 15.00 |