Understanding Fintech and Private Equity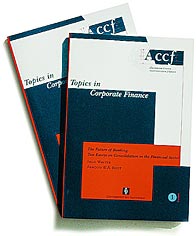 Volume: 26 Topics in Corporate Finance
Year: 2018
ISBN: 978-90-77859-17-9
In the ongoing focus of the Amsterdam Center for Corporate Finance (ACCF) on the future structure of the financial sector, this issue of its series Topics in Corporate Finance is devoted to understanding Fintech and the role, scope and scale of private equity in the Netherlands with as authors professor Arnoud W.A. Boot, Professor Jeroen E. Ligterink, Associate Professor and Head of Section at the Finance Group of the University of Amsterdam and Dr Jens K. Martin (Assistant Professor at the Finance Group of the University of Amsterdam).
This 26th issue of the ACCF Topics in Corporate Finance series is dedicated to two key issues in finance: the impact of fintech on banking, and the role that private equity plays in the economy.
The first chapter focuses on fintech. The main ingredient are developments in information technology that play a leading role in the transformation of banking. The recent focus on fintech – basically, new technology-driven players entering the financial services industry – is the latest manifestation of the impact of information technology on the industry. The focus is on the structure of the banking industry going forward. The author concludes that much uncertainty remains as fintech will lead to a disaggregation of the value chain, and will challenge the bank-customer interface at the core. The sector will need agility and flexibility to deal with the challenges ahead.
The second chapter is dedicated to the advantages and disadvantages of private equity. How should private equity be viewed? Does it play a valuable role in the economy? And what is its impact on the various stakeholders? The study focuses on buyouts. These are takeovers of mature companies (or parts of companies) by investors financed with considerable leverage (debt). Debates on this topic are often heated. The picture that emerges is a nuanced one. Broadly speaking, the authors conclude that private equity plays a positive role and is associated with value creation, but excesses do occur. Some policy measures are suggested. The chapter is based on an extensive study recently conducted by the authors for the Dutch Ministry of Finance into the role of private equity, specifically in the Netherlands (Ligterink, J.E., J.K. Martin, A.W.A. Boot, K. Cools and L. Phalippou (2017), Private equity in Nederland, een stakeholder-perspectief, report prepared for the Dutch government, February 11).
Publications Topics in Corporate Finance
| | | | | |
| --- | --- | --- | --- | --- |
| 29 | 2021 | A.J. Menkveld, G. Vuillemey, M.P. Schinkel, T. Klein and others | Perspectives on Central Clearing and Competition Policy | € 20.00 |
| 28 | 2020 | R. de Weijs, A. Jonkers & A. Boot et al. | Perspectives on Leveraged Finance and Fintech | € 20.00 |
| 27 | 2019 | Dirk Schoenmaker, Rens van Tilburg, Elisa Achterberg and Max van Son | Sustainable Finance and Government Policy | € 20.00 |
| 26 | 2018 | Arnoud W.A. Boot, Jeroen E. Ligterink and Jens K. Martin | Understanding Fintech and Private Equity | € 20.00 |
| 25 | 2017 | Jeroen E. Ligterink en Jens K. Martin | Private equity: waardecreatie, herverdeling en excessen | € 20.00 |
| 24 | 2015 | Tanju Yorulmazer | Understanding the Crisis: Bank Funding Structures as Source of Instability | € 20.00 |
| 23 | 2014 | Anat R. Admati | Towards a Better Understanding of the Capitalization of Banks | € 20.00 |
| 22 | 2013 | Arnoud W.A. Boot | Transactiemaatschappij en financiële markten: op zoek naar een nieuwe balans | € 20.00 |
| 21 | 2012 | Lans Bovenberg | Macro-oplossingen gezocht: naar integrale oplossingen voor de onevenwichtigheden in wonen, pensioen, ouderenzorg en het bancaire landschap | € 20.00 |
| 20 | 2011 | Paul De Grauwe and Arnoud W.A. Boot | Towards a Fundamental Resolution of the Eurocrisis | € 20.00 |
| 19 | 2010 | David T. Llewellyn | The Global Banking Crisis and the Post-Crisis Banking and Regulatory Scenario | € 20.00 |
| 18 | 2010 | Ludovic Phalippou | Regulating Private Equity | € 20.00 |
| 17 | 2009 | Frank Partnoy, Arnoud W.A. Boot and Anjan V. Thakor | Towards a Fundamental Understanding of Financial Sector Developments | € 20.00 |
| 16 | 2008 | Arnoud W. A. Boot | Corporate finance theorie en financiële crisis in breder perspectief | € 20.00 |
| 15 | 2007 | Arnoud W.A. Boot, meerdere auteurs | Private equity en aandeelhoudersactivisme | € 20.00 |
| 14 | 2007 | X. Vives and V. Strauss-Kahn | Headquarters and innovation: does location matter? | € 20.00 |
| 13 | 2006 | L. Bouchez, M. Knubben, J.A. McCahery and L. Timmerman (eds) | The Quality of Corporate Law and the Role of Corporate Law | € 20.00 |
| 12 | 2005 | J. McCahery and E. Vermeulen | Understanding (Un)incorporated Business Forms | € 20.00 |
| 11 | 2005 | D. Cumming, G. Fleming and A. Schwienbacher | Recent research on the investment behavior of private equity fund managers | € 20.00 |
| 10 | 2005 | M.J.G.C. Raaijmakers, G. van Solinge en P. Frentrop | Corporate governance: een agenda voor de toekomst | € 20.00 |
| 9 | 2004 | Amar Bhidé | Entrepreneurship and Venture Capital | € 20.00 |
| 8 | 2004 | V. Maksimovic, D. Brounen, A. de Jong and K. Koedijk | Perspectives on the Theory and Practice of Corporate Finance | € 20.00 |
| 7 | 2003 | J.J.A. Leenaars | Securitisatie: Economics en Europees Perspectief | € 20.00 |
| 6 | 2003 | U. Bhattacharya | Global Corporate Governance and Accounting Transparency | € 20.00 |
| 5 | 2002 | A. Saunders and A. Schmeits | The Role of Bank Funding for the Corporate Sector: the Netherlands in an International Perspective | € 20.00 |
| 4 | 2001 | Todd T. Milbourn | Management Compensation in the Netherlands: Theory, Evidence, and Best Practice | € 12.50 |
| 3 | 2000 | A.W.A. Boot and J.E. Ligterink | De Efficiëntie van de Nederlandse Faillissements | € 15.00 |
| 2 | 2000 | E.I. Altman and A. Saunders, and A.W.A. Boot, T. Milbourn, and S. Dezelan | Perspectives on the Regulation of the Financial Services Industry | € 12.50 |
| 1 | 1999 | I. Walter and A.W.A. Boot | The Future of Banking: Two Essays on the Consolidation in the Financial Sector | € 15.00 |