Securitisatie: Economics en Europees Perspectief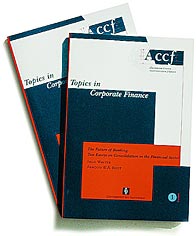 Volume: 7 Topics in Corporate Finance
Year: 2003
ISBN: 90-805728-7-x
Dit boekje over securitisatie richt zich vooral op de economics van securitistie ("waar ligt de toegevoegde waarde?") en verschaft daarnaast een Europees perspectief. In hoofdstuk 1 worden drie soorten securitisatie onderscheiden en gedefinieerd. Securitisatie doet zich in twee gedaantes voor. Term securitisatie financiert bezittingen op de kapitaalmarkt (via cashflow of synthetische transacties) en conduit securitisatie zoekt haar financiering op de geldmarkt.
In hoofdstuk 2 worden cashflow, synthetische en conduit securitisatie aan de hand van gegeneraliseerde schema's gedetailleerd besproken, nadat eerst aandacht is geschonken aan twee structuurkenmerken, die in elke securitisatietransactie voorkomen. Deze zijn i. het onderbrengen van een groep bezittingen, die dient als onderpand van de te emitteren effecten, in een speciaal voor dat doel opgericht lichaam -een Special Purpose Verhicle of kortweg SPV- en ii. het herstructureren en verlagen van het kredietrisico; deze laatste activiteit bestaat met name uit credit enhancement.
In hoofdstuk 3 wordt een indruk gegeven van de omvang van de securitisatiemarkten. Uit een combinatie van Moody's Investor Services en eigen research mag worden geconcludeerd dat -gemeten is het jaar 2000- een kleine 10% van de Europese kredietproductie wordt gesecuritiseerd.
In hoofdstuk 4 komt de essentie van de discussie over Basel II aan de orde: economic vs forfaitair (regulatory) capital. De belangrijkste bijdrage die het denken over economic capital en Basel II heeft opgeleverd voor de discussie is dat het kredietrisico's, (noodzakelijk) eigenvermogen en credit rating van de betreffende bank met elkaar in verband brengt.
In hoofdstuk 5 staan de krachten achter securitisatie centraal, en met name de toegevoegde waarde van securitisatie transacties.
Hoofdstuk 6 is specifiek gewijd aan de toegevoegde waarde van securitisatie voor banken. De meest opvallende conclusie van dit deel van het onderzoek is dat term securitisatie -zeker voor banken- niet tot goedkopere funding leidt. In deze hoofdstukken is ook een kwantitatief model uitgewerkt omtrent de financiële wenselijkheid van securitisatie.
Hoofdstuk 7 is gewijd aan het marktmechanisme van kredietderivaten, en in het bijzonder aan de pricing van Credit Default Swaps.
Publications Topics in Corporate Finance
| | | | | |
| --- | --- | --- | --- | --- |
| 30 | 2023 | D. Bezemer, K. Cools, A. Boot | Ondernemingsbeleid in een wereld van financialisering | € 20.00 |
| 29 | 2021 | A.J. Menkveld, G. Vuillemey, M.P. Schinkel, T. Klein and others | Perspectives on Central Clearing and Competition Policy | € 20.00 |
| 28 | 2020 | R. de Weijs, A. Jonkers & A. Boot et al. | Perspectives on Leveraged Finance and Fintech | € 20.00 |
| 27 | 2019 | Dirk Schoenmaker, Rens van Tilburg, Elisa Achterberg and Max van Son | Sustainable Finance and Government Policy | € 20.00 |
| 26 | 2018 | Arnoud W.A. Boot, Jeroen E. Ligterink and Jens K. Martin | Understanding Fintech and Private Equity | € 20.00 |
| 25 | 2017 | Jeroen E. Ligterink en Jens K. Martin | Private equity: waardecreatie, herverdeling en excessen | € 20.00 |
| 24 | 2015 | Tanju Yorulmazer | Understanding the Crisis: Bank Funding Structures as Source of Instability | € 20.00 |
| 23 | 2014 | Anat R. Admati | Towards a Better Understanding of the Capitalization of Banks | € 20.00 |
| 22 | 2013 | Arnoud W.A. Boot | Transactiemaatschappij en financiële markten: op zoek naar een nieuwe balans | € 20.00 |
| 21 | 2012 | Lans Bovenberg | Macro-oplossingen gezocht: naar integrale oplossingen voor de onevenwichtigheden in wonen, pensioen, ouderenzorg en het bancaire landschap | € 20.00 |
| 20 | 2011 | Paul De Grauwe and Arnoud W.A. Boot | Towards a Fundamental Resolution of the Eurocrisis | € 20.00 |
| 19 | 2010 | David T. Llewellyn | The Global Banking Crisis and the Post-Crisis Banking and Regulatory Scenario | € 20.00 |
| 18 | 2010 | Ludovic Phalippou | Regulating Private Equity | € 20.00 |
| 17 | 2009 | Frank Partnoy, Arnoud W.A. Boot and Anjan V. Thakor | Towards a Fundamental Understanding of Financial Sector Developments | € 20.00 |
| 16 | 2008 | Arnoud W. A. Boot | Corporate finance theorie en financiële crisis in breder perspectief | € 20.00 |
| 15 | 2007 | Arnoud W.A. Boot, meerdere auteurs | Private equity en aandeelhoudersactivisme | € 20.00 |
| 14 | 2007 | X. Vives and V. Strauss-Kahn | Headquarters and innovation: does location matter? | € 20.00 |
| 13 | 2006 | L. Bouchez, M. Knubben, J.A. McCahery and L. Timmerman (eds) | The Quality of Corporate Law and the Role of Corporate Law | € 20.00 |
| 12 | 2005 | J. McCahery and E. Vermeulen | Understanding (Un)incorporated Business Forms | € 20.00 |
| 11 | 2005 | D. Cumming, G. Fleming and A. Schwienbacher | Recent research on the investment behavior of private equity fund managers | € 20.00 |
| 10 | 2005 | M.J.G.C. Raaijmakers, G. van Solinge en P. Frentrop | Corporate governance: een agenda voor de toekomst | € 20.00 |
| 9 | 2004 | Amar Bhidé | Entrepreneurship and Venture Capital | € 20.00 |
| 8 | 2004 | V. Maksimovic, D. Brounen, A. de Jong and K. Koedijk | Perspectives on the Theory and Practice of Corporate Finance | € 20.00 |
| 7 | 2003 | J.J.A. Leenaars | Securitisatie: Economics en Europees Perspectief | € 20.00 |
| 6 | 2003 | U. Bhattacharya | Global Corporate Governance and Accounting Transparency | € 20.00 |
| 5 | 2002 | A. Saunders and A. Schmeits | The Role of Bank Funding for the Corporate Sector: the Netherlands in an International Perspective | € 20.00 |
| 4 | 2001 | Todd T. Milbourn | Management Compensation in the Netherlands: Theory, Evidence, and Best Practice | € 12.50 |
| 3 | 2000 | A.W.A. Boot and J.E. Ligterink | De Efficiëntie van de Nederlandse Faillissements | € 15.00 |
| 2 | 2000 | E.I. Altman and A. Saunders, and A.W.A. Boot, T. Milbourn, and S. Dezelan | Perspectives on the Regulation of the Financial Services Industry | € 12.50 |
| 1 | 1999 | I. Walter and A.W.A. Boot | The Future of Banking: Two Essays on the Consolidation in the Financial Sector | € 15.00 |