Perspectives on the Theory and Practice of Corporate Finance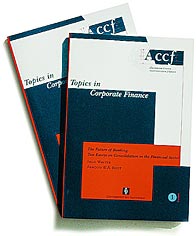 Volume: 8 Topics in Corporate Finance
Year: 2004
ISBN: 90-805728-8-8
One of the important challenges for financial economists is to understand the financial practices of corporations. How do corporations choose their financial structure? Why do they finance themselves the way they do? Simultaneously, the practitioners look for prescriptions. How should they choose their financial policy? Observing the many textbooks on corporate finance one would expect that prescriptions can easily be found. The reality is however that despite the enormous output of academic research in corporate finance, very little is produced that gives specific guidance to financial executives.
Against this backdrop the Amsterdam Center for Corporate Finance (ACCF) has decided to devote this issue of its discussion series "Topics in Corporate Finance" to trying to bridge the gap between theory and practice. In the first contribution, Professor Vojislav Maksimovic explicitly addresses how firms should choose their financial structure. His insights are that competitive considerations should be the key driving force, and also that financial structure decisions should be an integral part of a firm's overall risk management. His analysis shows how complex the issues are, partially explaining the lack of specific guidance that comes from corporate finance theory.
The second contribution reports on a survey among European CFO's. Professors Brounen, De Jong and Koedijk have succeeded in bringing together the opinions of a large sample of financial decision makers from the UK, the Netherlands, Germany and France on key corporate finance issues. They conclude that there is a wide variation in corporate finance practices, and that the variation appears to be influenced mostly by firm size and to a lesser extent by the degree of shareholder orientation. Nationality per se does not have a significant explanatory power.
Publications Topics in Corporate Finance
| | | | | |
| --- | --- | --- | --- | --- |
| 29 | 2021 | A.J. Menkveld, G. Vuillemey, M.P. Schinkel, T. Klein and others | Perspectives on Central Clearing and Competition Policy | € 20.00 |
| 28 | 2020 | R. de Weijs, A. Jonkers & A. Boot et al. | Perspectives on Leveraged Finance and Fintech | € 20.00 |
| 27 | 2019 | Dirk Schoenmaker, Rens van Tilburg, Elisa Achterberg and Max van Son | Sustainable Finance and Government Policy | € 20.00 |
| 26 | 2018 | Arnoud W.A. Boot, Jeroen E. Ligterink and Jens K. Martin | Understanding Fintech and Private Equity | € 20.00 |
| 25 | 2017 | Jeroen E. Ligterink en Jens K. Martin | Private equity: waardecreatie, herverdeling en excessen | € 20.00 |
| 24 | 2015 | Tanju Yorulmazer | Understanding the Crisis: Bank Funding Structures as Source of Instability | € 20.00 |
| 23 | 2014 | Anat R. Admati | Towards a Better Understanding of the Capitalization of Banks | € 20.00 |
| 22 | 2013 | Arnoud W.A. Boot | Transactiemaatschappij en financiële markten: op zoek naar een nieuwe balans | € 20.00 |
| 21 | 2012 | Lans Bovenberg | Macro-oplossingen gezocht: naar integrale oplossingen voor de onevenwichtigheden in wonen, pensioen, ouderenzorg en het bancaire landschap | € 20.00 |
| 20 | 2011 | Paul De Grauwe and Arnoud W.A. Boot | Towards a Fundamental Resolution of the Eurocrisis | € 20.00 |
| 19 | 2010 | David T. Llewellyn | The Global Banking Crisis and the Post-Crisis Banking and Regulatory Scenario | € 20.00 |
| 18 | 2010 | Ludovic Phalippou | Regulating Private Equity | € 20.00 |
| 17 | 2009 | Frank Partnoy, Arnoud W.A. Boot and Anjan V. Thakor | Towards a Fundamental Understanding of Financial Sector Developments | € 20.00 |
| 16 | 2008 | Arnoud W. A. Boot | Corporate finance theorie en financiële crisis in breder perspectief | € 20.00 |
| 15 | 2007 | Arnoud W.A. Boot, meerdere auteurs | Private equity en aandeelhoudersactivisme | € 20.00 |
| 14 | 2007 | X. Vives and V. Strauss-Kahn | Headquarters and innovation: does location matter? | € 20.00 |
| 13 | 2006 | L. Bouchez, M. Knubben, J.A. McCahery and L. Timmerman (eds) | The Quality of Corporate Law and the Role of Corporate Law | € 20.00 |
| 12 | 2005 | J. McCahery and E. Vermeulen | Understanding (Un)incorporated Business Forms | € 20.00 |
| 11 | 2005 | D. Cumming, G. Fleming and A. Schwienbacher | Recent research on the investment behavior of private equity fund managers | € 20.00 |
| 10 | 2005 | M.J.G.C. Raaijmakers, G. van Solinge en P. Frentrop | Corporate governance: een agenda voor de toekomst | € 20.00 |
| 9 | 2004 | Amar Bhidé | Entrepreneurship and Venture Capital | € 20.00 |
| 8 | 2004 | V. Maksimovic, D. Brounen, A. de Jong and K. Koedijk | Perspectives on the Theory and Practice of Corporate Finance | € 20.00 |
| 7 | 2003 | J.J.A. Leenaars | Securitisatie: Economics en Europees Perspectief | € 20.00 |
| 6 | 2003 | U. Bhattacharya | Global Corporate Governance and Accounting Transparency | € 20.00 |
| 5 | 2002 | A. Saunders and A. Schmeits | The Role of Bank Funding for the Corporate Sector: the Netherlands in an International Perspective | € 20.00 |
| 4 | 2001 | Todd T. Milbourn | Management Compensation in the Netherlands: Theory, Evidence, and Best Practice | € 12.50 |
| 3 | 2000 | A.W.A. Boot and J.E. Ligterink | De Efficiëntie van de Nederlandse Faillissements | € 15.00 |
| 2 | 2000 | E.I. Altman and A. Saunders, and A.W.A. Boot, T. Milbourn, and S. Dezelan | Perspectives on the Regulation of the Financial Services Industry | € 12.50 |
| 1 | 1999 | I. Walter and A.W.A. Boot | The Future of Banking: Two Essays on the Consolidation in the Financial Sector | € 15.00 |