Entrepreneurship and Venture Capital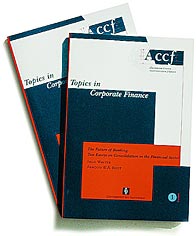 Volume: 9 Topics in Corporate Finance
Year: 2004
ISBN: 90-805728-9-6
by Amar Bhidé
2004, ISBN 90-805728-9-6
Academics and practitioners readily admit the importance of entrepreneurs for the wealth of nations. However, the relationship between the economic and social environment, entrepreneurship and value creation is not yet well understood. Moreover, at the micro-level, the optimal organization of the entrepreneurial firm and its access to human and financial capital is continuing to be an important public policy issue.
Against this backdrop the Amsterdam Center for Corporate Finance (ACCF) has decided to devote this issue of its discussion series "Topics in Corporate Finance" to entrepreneurship, covering the economic relevance of entrepreneurship and its organizational, strategic and financial challenges. The preeminent researcher in this case, Professor Amar Bhidé of Columbia University, has provided four excellent articles that each form a chapter in this booklet. The first chapter addresses the relationship between entrepreneurship and economic growth, and thus discusses the economic relevance of entrepreneurship. The second chapter discusses the origin and evolution of successful entrepreneurs and their strategies. The third chapter focuses on the access of entrepreneurs to external finance, in particular venture capital. The final chapter discusses the importance of control of honest mistakes and its effect on the financing of novel projects.
Amar Bhidé offers an intriguing perspective on the key success factors of entrepreneurs. Perhaps most surprisingly, several of the most successful entrepreneurial companies offer "me too" products in rather turbulent and small niche markets, and have entrepreneurs that are rather inexperienced. But many more insights emerge. "Entrepreneurship and Venture Capital", issue 9 in the discussion series "Topics in Corporate Finance", is a joyful blend of theory, anecdotes, survey based evidence and historical insights from economic thought. It shows how complex the issues are, partially explaining the lack of specific guidance that comes from economic theory.
We hope that you enjoy reading it, and that this publication may contribute to bridging the gap between theory and practice.
Publications Topics in Corporate Finance
| | | | | |
| --- | --- | --- | --- | --- |
| 30 | 2023 | D. Bezemer, K. Cools, A. Boot | Ondernemingsbeleid in een wereld van financialisering | € 20.00 |
| 29 | 2021 | A.J. Menkveld, G. Vuillemey, M.P. Schinkel, T. Klein and others | Perspectives on Central Clearing and Competition Policy | € 20.00 |
| 28 | 2020 | R. de Weijs, A. Jonkers & A. Boot et al. | Perspectives on Leveraged Finance and Fintech | € 20.00 |
| 27 | 2019 | Dirk Schoenmaker, Rens van Tilburg, Elisa Achterberg and Max van Son | Sustainable Finance and Government Policy | € 20.00 |
| 26 | 2018 | Arnoud W.A. Boot, Jeroen E. Ligterink and Jens K. Martin | Understanding Fintech and Private Equity | € 20.00 |
| 25 | 2017 | Jeroen E. Ligterink en Jens K. Martin | Private equity: waardecreatie, herverdeling en excessen | € 20.00 |
| 24 | 2015 | Tanju Yorulmazer | Understanding the Crisis: Bank Funding Structures as Source of Instability | € 20.00 |
| 23 | 2014 | Anat R. Admati | Towards a Better Understanding of the Capitalization of Banks | € 20.00 |
| 22 | 2013 | Arnoud W.A. Boot | Transactiemaatschappij en financiële markten: op zoek naar een nieuwe balans | € 20.00 |
| 21 | 2012 | Lans Bovenberg | Macro-oplossingen gezocht: naar integrale oplossingen voor de onevenwichtigheden in wonen, pensioen, ouderenzorg en het bancaire landschap | € 20.00 |
| 20 | 2011 | Paul De Grauwe and Arnoud W.A. Boot | Towards a Fundamental Resolution of the Eurocrisis | € 20.00 |
| 19 | 2010 | David T. Llewellyn | The Global Banking Crisis and the Post-Crisis Banking and Regulatory Scenario | € 20.00 |
| 18 | 2010 | Ludovic Phalippou | Regulating Private Equity | € 20.00 |
| 17 | 2009 | Frank Partnoy, Arnoud W.A. Boot and Anjan V. Thakor | Towards a Fundamental Understanding of Financial Sector Developments | € 20.00 |
| 16 | 2008 | Arnoud W. A. Boot | Corporate finance theorie en financiële crisis in breder perspectief | € 20.00 |
| 15 | 2007 | Arnoud W.A. Boot, meerdere auteurs | Private equity en aandeelhoudersactivisme | € 20.00 |
| 14 | 2007 | X. Vives and V. Strauss-Kahn | Headquarters and innovation: does location matter? | € 20.00 |
| 13 | 2006 | L. Bouchez, M. Knubben, J.A. McCahery and L. Timmerman (eds) | The Quality of Corporate Law and the Role of Corporate Law | € 20.00 |
| 12 | 2005 | J. McCahery and E. Vermeulen | Understanding (Un)incorporated Business Forms | € 20.00 |
| 11 | 2005 | D. Cumming, G. Fleming and A. Schwienbacher | Recent research on the investment behavior of private equity fund managers | € 20.00 |
| 10 | 2005 | M.J.G.C. Raaijmakers, G. van Solinge en P. Frentrop | Corporate governance: een agenda voor de toekomst | € 20.00 |
| 9 | 2004 | Amar Bhidé | Entrepreneurship and Venture Capital | € 20.00 |
| 8 | 2004 | V. Maksimovic, D. Brounen, A. de Jong and K. Koedijk | Perspectives on the Theory and Practice of Corporate Finance | € 20.00 |
| 7 | 2003 | J.J.A. Leenaars | Securitisatie: Economics en Europees Perspectief | € 20.00 |
| 6 | 2003 | U. Bhattacharya | Global Corporate Governance and Accounting Transparency | € 20.00 |
| 5 | 2002 | A. Saunders and A. Schmeits | The Role of Bank Funding for the Corporate Sector: the Netherlands in an International Perspective | € 20.00 |
| 4 | 2001 | Todd T. Milbourn | Management Compensation in the Netherlands: Theory, Evidence, and Best Practice | € 12.50 |
| 3 | 2000 | A.W.A. Boot and J.E. Ligterink | De Efficiëntie van de Nederlandse Faillissements | € 15.00 |
| 2 | 2000 | E.I. Altman and A. Saunders, and A.W.A. Boot, T. Milbourn, and S. Dezelan | Perspectives on the Regulation of the Financial Services Industry | € 12.50 |
| 1 | 1999 | I. Walter and A.W.A. Boot | The Future of Banking: Two Essays on the Consolidation in the Financial Sector | € 15.00 |